Posted by Zach Shaw on Tue, Feb 28, 2012 at 4:00 pm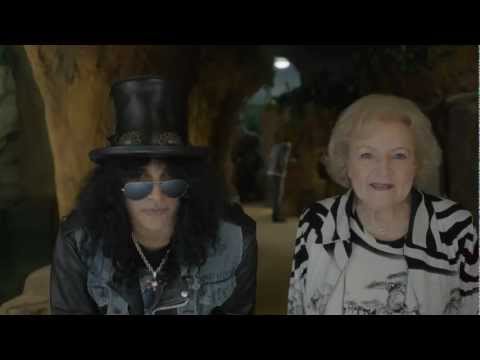 Remember that picture of Slash, Betty White and a Colombian Red Tail Boa Constrictor taken during the GLAZA Beastly Ball at the Los Angeles Zoo? Well, the former Guns N' Roses guitarist and Golden Girl actress have teamed up once again in support for the LA Zoo. This time, the two took part in a commercial for the zoo's new attraction the LAIR (Living Amphibians, Invertebrates, and Reptiles).
As cute as it is to see Betty White acting like Slash's grandma in a zoo, we still can't get over the image of the 90 year old actress holding Slash's…snake. Watch the commercial for yourself above. The LAIR exhibit, which features 60 species of weird, rare and endangered amphibians, invertebrates and reptiles, opens on March 8 at the LA Zoo.