Posted by Bram Teitelman on Tue, Aug 7, 2012 at 2:03 pm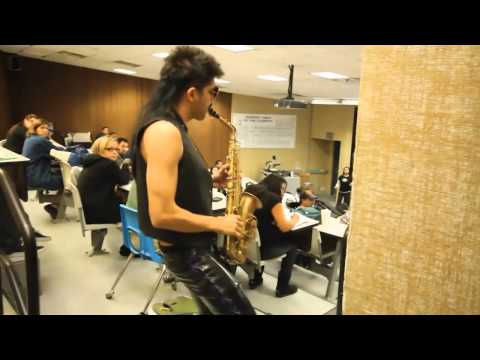 By now, if you're anything more than a casual Faceless fan, you've probably heard "Deconsecrate," from the band's forthcoming album, Autotheism. Not only is the song being spun on SiriusXM, it's also the one song from the new album that the technical death metal band has been playing on the Summer Slaughter tour. Amidst the clean vocals, deathy riffage and carnivalesque vibe of the song, there's also a saxophone solo. After doing some snooping (okay, the liner notes and a clarification from Sumerian's publicist), we found out that the soloist is none other than the man in the above video, Sergio "Sexy Sax Man" Flores.
In case you didn't have the internet last year, Sexy Sax Man's impromptu public performances of the hook from George Michael's "Careless Whisper" took the web by storm. It's hysterical, and you should be watching it instead of reading this. It's nice to see that he can play something besides "Careless Whisper." Check out a fan-filmed version of "Deconsecrate" (complete with sampled sax solo!) after the jump, and maybe consider picking up Autotheism when it comes out next Tuesday (14).
Tags: George Michael, Sergio Flores, Sexy Sax Man, Sexy Saxman, SiriusXM, The Faceless, Wham!