Posted by Zach Shaw on Mon, Mar 12, 2012 at 12:09 pm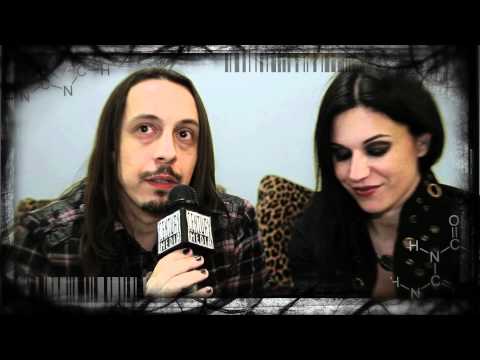 Italian metal group Lacuna Coil kicked off 2012 with a stint on Gigantour with Megadeth, Motorhead and Volbeat. However, fans disappointed that the band's set on the tour was too short will be pleased to hear about their upcoming tour plans. Not only do Lacuna Coil plan to play two hours on each date of their Dark Legacy tour, but they'll also be playing a heavy mix of new and old material. But don't just take our word on it. Check out what singers Cristina Scabbia and Andrea Ferro had to say about what will likely be their only U.S. headlining trek of 2012 in the video above.
In addition, Lacuna Coil will reportedly open on select dates of Rob Zombie and Megadeth's co-headlining tour. More dates for the Dark Legacy tour will be announced soon, but you can see what has been confirmed so far after the jump.
Dark Legacy Tour:
4/7 – San Diego, CA @ Soma
4/8 – Anaheim, CA @ House Of Blues
4/10 – West Hollywood, CA @ Key Club
4/13 – Portland, OR @ Aladdin Club
4/14 – Boise, ID @ Knitting Factory
4/16 – Spokane, WA K@ Knitting Factory Concert House
4/18 – Denver, CO @ The Summit Music Hall
4/21 – El Paso, TX @ Tricky Falls
4/22 – Albuquerque, NM @ Sunshine Theater
Dates with Rob Zombie and Megadeth:
5/11 – Homdel, NJ @ PNC Bank Arts Center
5/12 – Scranton, PA @ Toyota Pavillon
5/16 – Pittsburgh, PA @ Stage AE
5/18 – Grand Rapids, MI                @ Delta Plex
5/19 – Columbus, OH @ Columbus Crew Stadium (Rock On The Range)
Dates with Megadeth:
5/6 –  Orlando, FL @ Hard Rock Live
5/15 – Indianapolis, IN @ The Murat Theater
[dates with Megadeth and Rob Zombie via]
Tags: Andrea Ferro, Cristina Scabbia, Lacuna Coil, Megadeth, Rob Zombie