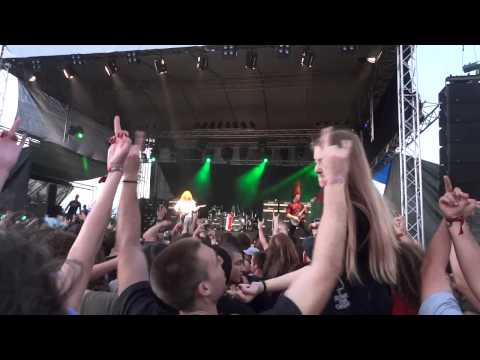 While I've never been to Croatia before, it appears they really like W.A.S.P. there. According to NME, during a festival called Metalfest third day headliner Megadeth were forced to flee the stage after the crowd became unruly and started throwing rocks at frontman Dave Mustaine, one of which hit him in the head. Can we chalk this up to Croation metal fans being known for throwing rocks, much like U.K. fans throw bottles of piss at bands they like? Good theory, but no. Apparently, it's W.A.S.P.'s fault.
Apparently, W.A.S.P. were scheduled to play the festival as well, but dropped off. It's an unconfirmed rumor, but apparently, Blackie Lawless refused to perform following an argument with Mustaine. While the clip starts out with plenty of Megadeth fans, at around the nine-minute mark of the video (and 40 minute mark of their set), you can hear much of the crowd chanting "we wan't W.A.S.P." At about 9:20, Mustaine gets pelted, and shortly after walks offstage. A spokesperson comes out and tries to calm the crowd, saying "Dave's been hit in the head with a rock." The crowd never gets too unruly, mainly because from where it was shot from, it looks like about 100 people are there.
Tags: Blackie Lawless, Dave Mustaine, Megadeth, NME, W.A.S.P.