Posted by Zach Shaw on Mon, Jun 27, 2011 at 9:53 am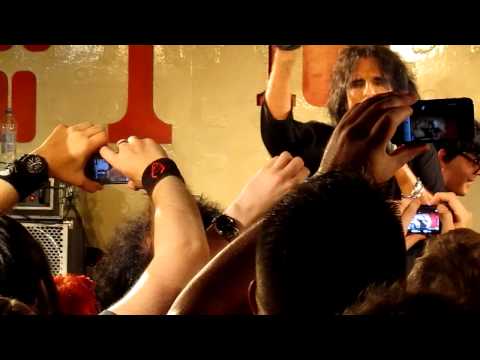 We thought it was a bit odd hearing that Aerosmith/American Idol judge Steven Tyler was collaborating on music with actor Johnny Depp. However, it was even more surprising to see the Pirates Of The Caribbean and 21 Jump Street star on stage performing with Alice Cooper.
Depp, wo has dabbled in music before, joined the Rock And Roll Hall Of Fame shock rocker last night (June 26) at London's 100 Club. He played guitar on "School's Out" and "I'm Eighteen." Cooper posted a picture of Depp waiting backstage with guitar in hand on his Facebook page. You can check out video of Depp playing "I'm Eighteen" up top, while more videos can be seen after the jump.
Here's Depp playing "School's Out":
During "School's Out," they also played a piece of Pink Floyd's "Another Brick In The Wall." Here's a clip of that: