Posted by Zach Shaw on Wed, Mar 14, 2012 at 11:20 am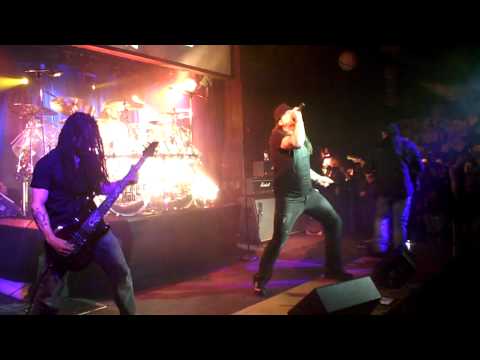 Last Monday night (March 12), Adrenaline Mob performed a record release party for their new album Omertá at the Hiro Ballroom in NYC. Not only did it mark the supergroup's return to the venue where they made their live debut last Summer, but it also marked their first show with Disturbed bassist John Moyer.
Fan filmed footage of the show, including a clip from the NY Hard Rock Music Examiner, has made its way online. And from watching the videos alone, it's obvious that Moyer is a perfect fit for the group, a feeling singer Russell Allen shared when speaking with us last week. You can watch the band performing "Feelin' Me" above, while footage of them performing "Undaunted" and an encore set of Black Sabbath covers can be seen after the jump.
[footage via NY Hard Rock Music Examiner, bluecrabby23, and cecilia1928]
Tags: Adrenaline Mob, Black Sabbath, Disturbed, Dream Theater, Hiro Ballroom, John Moyer, Mike Orlando, Mike Portnoy, Russell Allen, Symphony X