Posted by Zach Shaw on Mon, Oct 24, 2011 at 9:09 am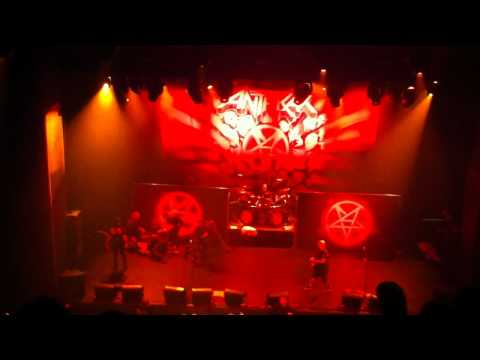 Caught in a mosh indeed. During Anthrax's show at Club Nokia in Los Angeles this past Saturday night (October 22), Joey Belladonna was accidentally knocked down by a security guard onstage.
After a fan made his way onstage during the band's performance of "Metal Thrashing Mad," a security guard went in to take the guy down. However, he didn't realize that Belladonna was right behind the fan attempting to put his arm around him. What resulted was said security guard tackling the fan and the singer. The incident also stirred a confrontation between the security guard and bassist Frank Bello, who had to be held back by others on stage.
Fortunately Belladonna was ok following the tackle (saying "I'm going to have a sore ass tomorrow, I know that!" once returning to the stage) and was well enough to finish the show. Unfortunately for him, though, fan filmed footage of the incident has made its way online. You can check out one clip of the entire song (with the incident happening around the 1:40 mark) above, while another clip of just the tackle can be seen after the jump. It's pretty understandable why Bello might have gone after the security guard, and also why Scott Ian called out the security guard saying "fucking geniuses they have working here, huh? I guess they haven't seen him up here on stage for the last 90 minutes."
Update: Belladonna has since posted the following message via his Facebook account:
"Thanks for all your concern and caring about our well-being. I was trying to be cool to the fan and things turned to shit. We just don't like to see anybody get hurt. Frankie and I are ok, my ass is pretty sore. Thanks to Frankie for jumping in to help me, and to everyone for a great show."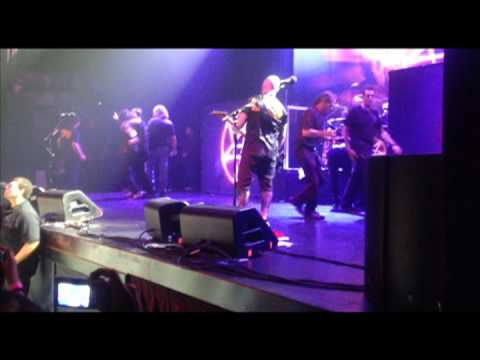 Tags: Anthrax, Frank Bello, Joey Belladonna