Posted by Zach Shaw on Tue, Jul 3, 2012 at 9:48 am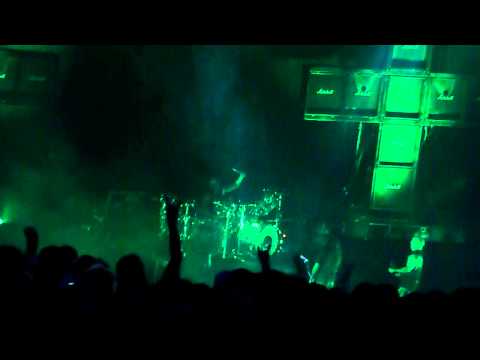 As sad as it is that Jeff Hanneman has once again been sidelined from the road, it is fortunate that Slayer were once again able to rely on Exodus' Gary Holt to fill in. And fans at Mayhem Fest's stop at the Shoreline Amphitheatre in Mountain View, CA Sunday night (July 1) were in for a special treat. That's because Slayer (with Holt) performed a cover of Exodus' "Strike Of The Beast." Kerry King has previously joined Exodus onstage for the same song, but it's nonetheless cool to see Slayer performing the Bonded By Blood classic during their set.
It's unclear whether the cover will appear in their set list for the rest of Mayhem Fest's day. Luckily, though, fan filmed footage of the performance has made its way around the web and can be seen above.
[footage via Rudeness2006 by way of The PRP]
Tags: Exodus, Gary Holt, Jeff Hanneman, Mayhem Festival, Slayer