Posted by Zach Shaw on Thu, Jan 13, 2011 at 10:45 am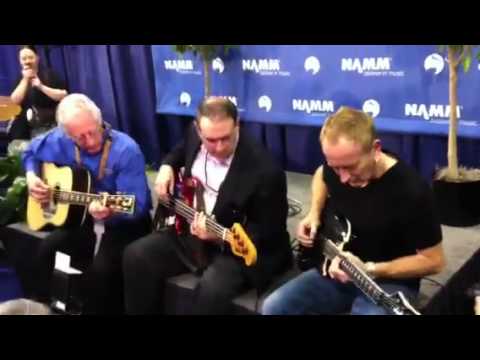 We thought we saw it all when Iron Maiden's Nicko McBrain jammed with E Street Band saxophonist Clarence Clemons. We thought there couldn't be anything more random than a Black Tusk remix done by the RZA. And we surely thought that there wasn't anything more bizarre than seeing Jim Carey performing with Slash. But we were wrong……ladies and gentlemen, without further ado we present video of what might very well take the cakes as the weirdest collaboration ever: former Arkansas Gov. Mike Huckabee playing bass in a jam session with Def Leppard guitarist Phil Collen.
The impromptu jam session occurred during the first day of the NAMM convention in Anaheim, CA yesterday (January 12). Video can be seen above, while more photos and an explanation about why Huckabee was even at the NAMM convention can be seen at The Orange County Register's website. We'd explain it ourselves, but we're still trying getting over the fact that the potential 2012 presidential Republican candidate was jamming with the British guitarist behind "Pour Some Sugar On Me." Potential campaign song?
Tags: Def Leppard, Mike Huckabee, NAMM, Phil Collen