Posted by Zach Shaw on Wed, Aug 1, 2012 at 10:00 am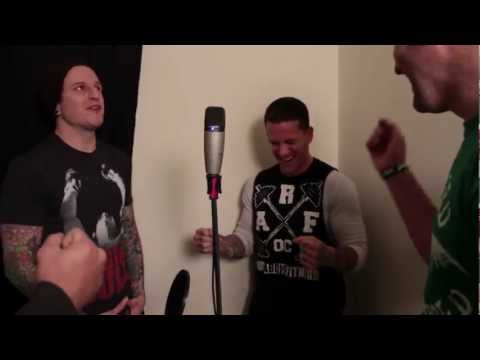 What do you get when Atreyu frontman Alex Varkatzas and Bleeding Through vocalist Brandan Schieppati join forces? You get the hardcore punk project I Am War. And on August 28, the duo will release I Am War's debut album Outlive You All via Razor & Tie. While Varkatzas takes on the lead vocals, with Schieppati handling additional singing and guitars, I Am War's new record feature gang vocals from a special guest: MMA fighter and pro wrestler Josh Barnett.
The two vocalistss actually recorded in person with Barnett (a long time metal fan who recently gave Municipal Waste a few training tips). The sessions produced some hilarious moments and killer sounding vocals. How do we know? Well we just so happen to have exclusive video of the three recording gang vocals for Outlive You All. So without further ado, watch footage of Varkatzas and Schieppati in the studio with Barnett in the video above.
Tags: Alex Varkatzas, Atreyu, Bleeding Through, Brandan Schieppati, I Am War, Josh Barnett, Razor & Tie